---

The 18" Spartan Camel
~ Spiral Gold Pan ~

---
FACTS:
Wheel Diameter = 17.75"
Number of leads = 7
Dry Weight = 19.5 pounds (dry weight)
Size = 33" high X 19" wide X 26" long
Stowed Size = 12" high X 19" wide X 26" long
Tub volume = 8 gallons
Pump capacity = 540 gallons per hour
Powered by any 12-Volt Battery
Price including Action Packer is $ 489.00 + $ 15.00 S & H in U. S. only.
FEATURES OF THE 18" SPARTAN CAMEL AUTOMATIC GOLD PANNING MACHINE...
This panning machine is slightly larger than our CAMEL DELUXE model. It has a metal stand, vernier pitch control, variable
speed control, larger water reservoir and can process 250 pounds of ore per hour.

OTHER IMPORTANT FEATURES

7 spiral leads on a big 18" wheel for maximum speed of operation.
Our exclusive Aqua-Jeton the spray-bar churns and mixes the materials in the wheel for the fastest recovery possible.
The SPARTAN CAMEL features a variable speed control for fast concentration or separation of fine GOLD from black sand.
The Action Packer carrying case doubles as a water reservoir
The bilge pump recirculates 5 gallons of water.
The SPARTAN CAMEL can be removed from the Action Packer and used directly in a stream.
ABOUT OUR WARRANTY
Spartan Camel gold panning machines are guaranteed against defects in materials and labor for an initial period of one year from
the date of purchase.
WARNING . . . this warranty does not apply to products purchased on auction sites.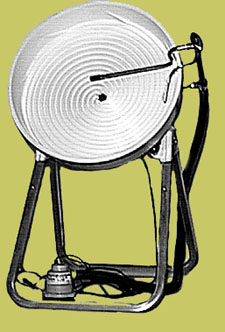 ---
BACK
HOME