---
J.W.'S PROSPECTING SUPPLIES
~ ONLINE ~
---

Everything for the Recreational
Prospector and Miner
---
~ About Us ~

---

Store Hours
Sunday . . . . . . . . . . . Closed
Monday . . . . . . . . . . Closed
Tuesday . . . . . . . . 9:00 - 5:00
Wednesday . . . . . . 9:00 - 5:00
Thursday . . . . . . . .9:00 - 5:00
Friday . . . . . . . . . . 9:00 - 5:00
Saturday . . . . . . . . 9:00 - 2:00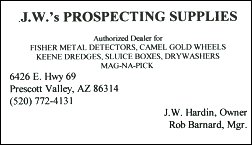 We are the largest prospecting supply store in Northern Arizona
and have been in business for 15 years.
Authorized Dealer for MINELAB
FISHER & BOUNTY HUNTER METAL
DETECTORS, CAMEL GOLD WHEELS,
KEENE DREDGES, SLUICE BOXES,
DRYWASHERS, MANUFACTURER
& DISTRUBUTOR FOR MAG-NA-PICK
We also carry local area topo maps,
Books, Gold Pans, scoops,
Plus much much more!
---
Our customers receive "free of charge"
as much time & training as necessary
to obtain total use of their equipment!
Related Gold Prospecting Links

---

Thanks for visiting us
~ ONLINE ~
JW

---

2000, 2001